Bejewelled Woods – Kamaali Couture Launches Autumn Winter 2017 Collection !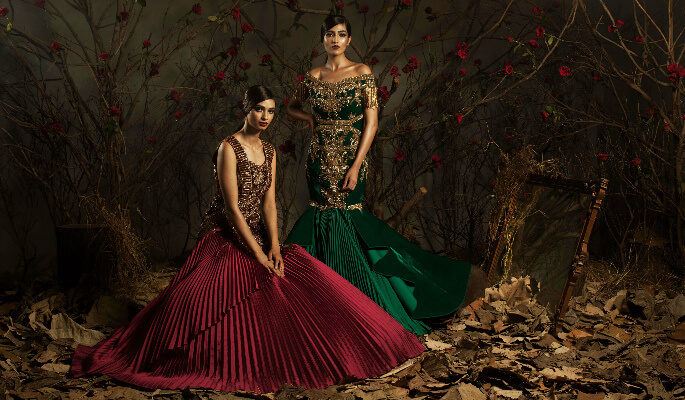 Kamaali Couture launched 'Bejewelled Woods' , a beautiful, trendy and contemporary collection for the modern day woman who is independent and a go-getter. The newly launched Autumn/Winter 2017 collection includes an array of western silhouettes ranging from couture gowns to cocktail dresses and beautiful sari gowns and showcases supreme versatility and class.
Started by Kamaali Mehta and co-founded by Shruti Mehta,Kamaali Couture is a women's wear couture apparel brand based out of New Delhi. Kamaali has developed a unique style of her own, reflecting the need to design custom made clothing which is not only contemporary but is a trendy rendition to the changing fashion scenario.
The use of traditional embroidery has created a new classicism, a staple for anyone's bridal wardrobe. Kamaali has also stepped forward to make her collection very functional in terms of wearability and has made quality products that can easily be switched from Day to Night.
The brand is stepping forward to create an identity for the modern day woman who is independent and a go-getter. The collection, 'Bejewelled Woods' classifies its distinctive use of the royal tones of the forest through the color palette that revolves around emerald green, peach moonstone, purple, obsidian black and imperial topaz gold.
What went behind the awesome shoot:
The inspiration behind the whole look and feel of the collection was the designer duo's recent travel to Pench in Madhya Pradesh in the summer. Where the temperature was around 48 Degrees, the effects of which were highly visible in the surroundings. It was like the sun's rays created silhouettes which is represented by pleating and cascades in the garments. The set devised for the collection with use of dry leaves and trees with twigs and roses were exactly what the designers spotted in their travel, thus taking inspiration from and translating it beautifully into their collection, Bejewelled Woods. While using quality fabrics such as taffeta, silk, velvet and lycra with details of dabka embroidery, cut-dana and chains, which is inspired by leaves and branches that add a touch of softness and delicacy. The collection is a depiction of vintage baroque embroideries with a modern twist of contemporary elements.