Anjali Jani: Your Go-To Designer For The Wedding Season!
Post successful stints under the wings of Rocky S and Manish Malhotra, fashion designer Anjali Jani is not only one of the leading names in the Indian fashion set, she's also a favourite of stylish celebs across Bollywood. No wonder – her designs are a beautiful amalgamation of traditional techniques in a contemporary language.
We chatted up the designer to get to know more, and here's what she has to say:
What is the essence of brand and your design philosophy?
"My label represents all things classic, inherently rich and creations that don't date. I really believe in the dedicated pursuit of reviving everything that is handcrafted, handwoven and handmade. So my garments always reflect Indian textiles & embroideries that have stood the test of time & represent eternal beauty."
What was your inspiration for this collection?
"My collection on Zapyle is inspired by the Rann Utsav (Rann of Kutch festival). A riot of colour sprinkled on the white salt desert; the amalgamation of handloom fabrics, cottons, chanderis, tussars & dupion silks; block & ajrakh prints; the extensive use of mirrors, threadwork and zari."
What is your design process like when you start out designing an entire collection?  
"Design is a very fluid process. When I'm inspired by art, nature, objects or people, I put it down on paper as elements – not necessarily an entire illustration – then build on that. After that, it's about sourcing the fabric for the collection which are essentially handmade/woven. These fabrics then may have to be dyed or textured, then go to the pattern maker, the embroiderer and is finally stitched and finished."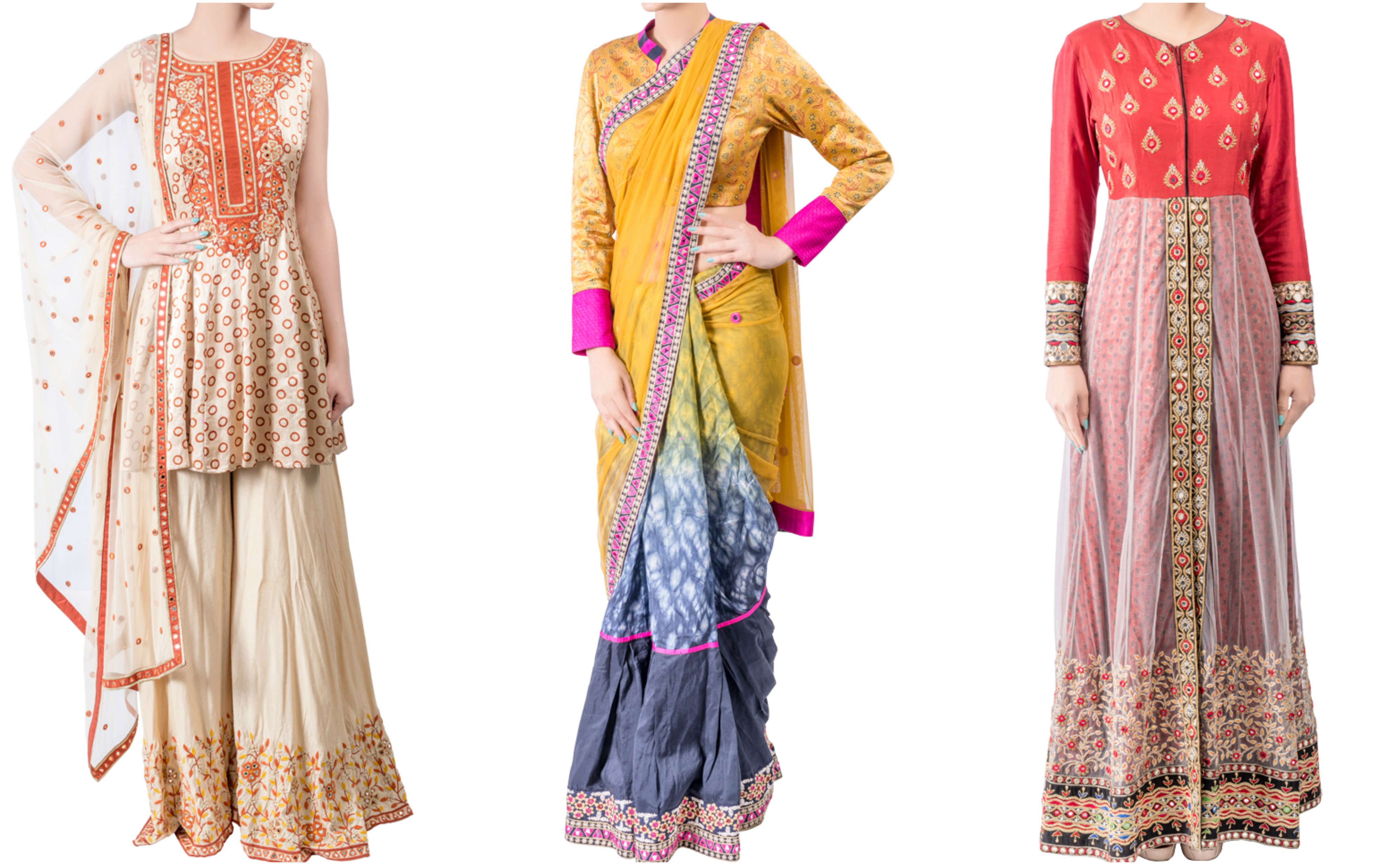 Who is your dream celebrity you'd like to design for?
"I love the unique styles of Deepika Padukone & Kareena Kapoor among the Indian celebrities, and I dream of dressing up Kate Middleton & Natalie Portman just because I admire their classic sense of style."
What are the wedding trends for 2016? 
"Indian handlooms/textiles, embroideries and craftsmanship will be blended with the modern silhouettes for a global appeal. There will be a lot of emphasis on minimalism, subtlety, comfort and most importantly, individuality. Also, a lot of drapes, layering, jackets, capes, light lehengas, dhotis and palazzos."
Tell us about your favourite bride?
"My favourite bride has been a friend and a dear client, Ankita. We designed everything right from her trousseau to the pre-wedding events and the wedding. It was just lovely to design different outfits according to the events, and give her different silhouettes and styles for each day. She was a young bride who really trusted us with her big day!"
Rapid Fire:
What is one style tip you'd give for the upcoming festive season? 
"I'd say look for comfort and don't follow the trends blindly, be you!
One must-have accessory for this wedding season? 
"A great pair of heels, maybe embellished for the festive season. It always enhances the entire look."
What are your thoughts on fashion going online? 
"I truly believe that e-commerce is the future of retail. Fashion has always been a place for innovators and with customer expectation at an all-time high, we need this progressive outlook more than ever before."
Shop Anjali Jani's stunning Rann of Kutch collection on Zapyle right now!
Also Read Beautiful Offbeat Wedding Lehengas for that Smashing Look and Trending Neon Colors to Pick This Wedding season !