A Royal Tapestry Of Nostalgic Beauty & Timeless Regalia, Seema Gujral Presents "Portraits"- Couture 2020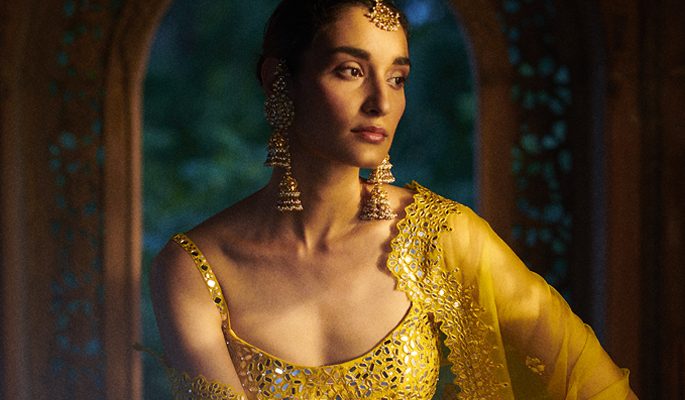 Seema Gujral presents "Portraits"- Couture 2020
 Presenting, 'Portraits' by Seema Gujral, an effort to showcase the vintage glamour that was Indian royalty. Blue blood is in the cultural fabric of the nation, a history that's laden with opulence and elan, a story that calls to be told, in a new and unique manner. 'Portraits' are not just ensembles but tales, tales of tradition and beautifully woven diversity, created for the modern bride, who wants to wear the beauty of her roots on her special day. It is an innately regal collection, where each piece has a character and a face, inspired by the Maharanis of yore, where every bride should feel that sense of regalia.
Couturier, Seema Gujral found inspiration when she chanced upon a collection of heritage imagery of royal couture and the architecture of Rajasthan's forts and palaces and she went on to create a unique collection of 12 ensembles for the Modern Indian bride. & 'Portraits' as a collection is a blend of royal charm coupled with a modern sensibility, driven by a holistic vision of when luxury meets comfort. The revolutionary amalgamation of traditional crafts, one-of-a-kind handiwork and contemporary haute couture generates alluring, urbane, and timeless attire. This collection has rejuvenated and redefined age-old Indian royalty through garments for the Maharanis of the current generation. These ensembles are for the women who respect the values of the land and its rich cultural heritage and don't have to be blue-blooded to feel like Queens. The designs in this collection, spell clean lines where old world charm merges seamlessly with nouveau Indian grandeur. The brand creates couture diffusion, which is Indian in sensibility yet international in quality and finesse. The brand's USP lies in fine, intricate embroidery, stylizing, and attention to detail, culminating into a classic and elegant style in women's couture.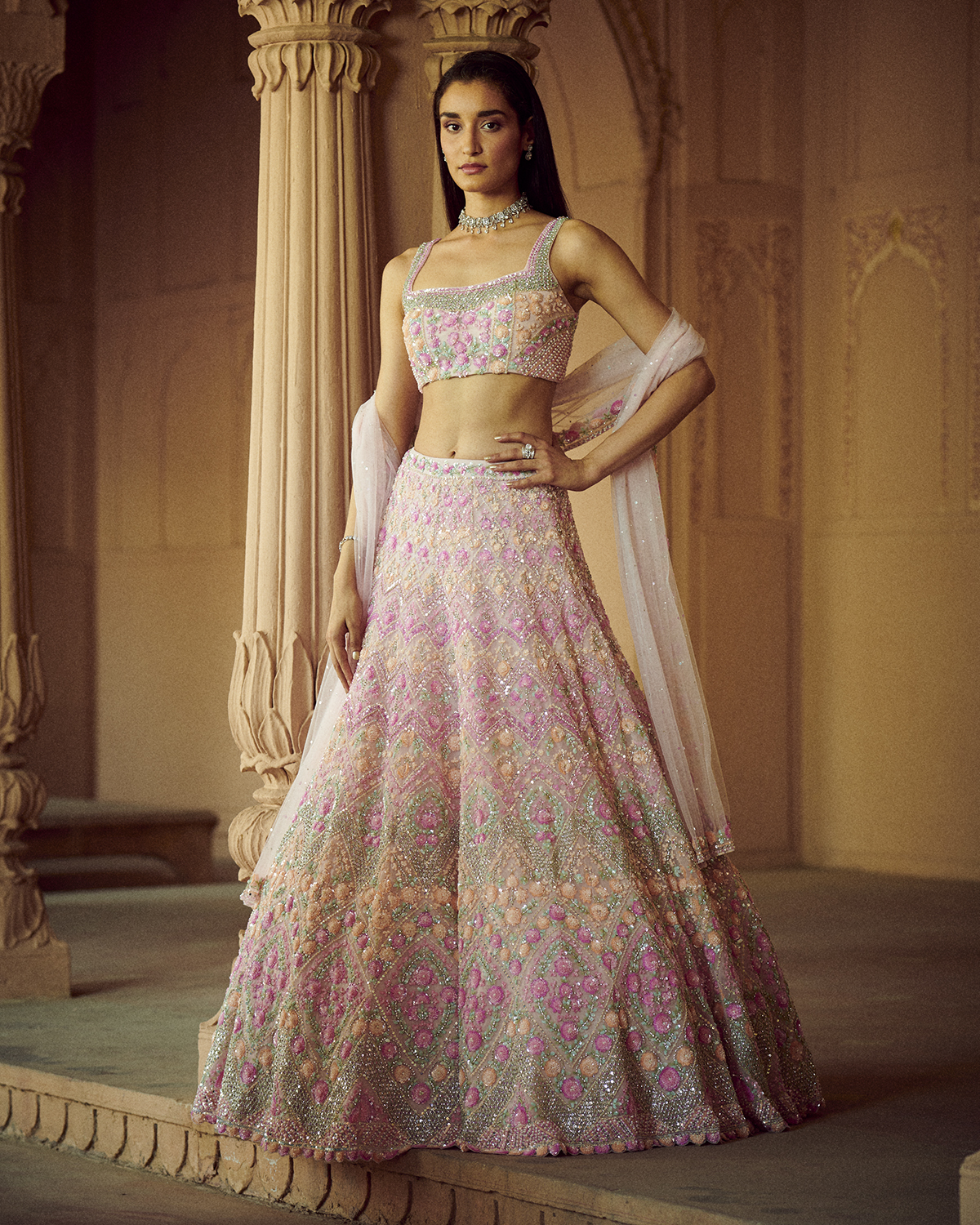 ---
'Portraits' as a collection follows the delicately evolving phases of Maharanis, where time moved but the craftsmanship was such that each piece remained timeless. With two design forms, Ghararas and Lehengas, it is the subtle detailing that makes each piece unique. The three-dimensional floral embroideries using varied fabrics, embroidery materials, and a combination of various embroidery techniques along with traditional Rajasthani mirror work and soft multicolored sequins is the signature for this collection. The garments are elegantly created with pride and passion as reflected in the fine craftsmanship of intricate embroideries, gotta Patti, and mirror work. The color palette is an eclectic mix of softer hues for the day occasions such as ivory, beige, yellow and deep mustards, rusts, and reds for the night. Then there is the light rose gold gotta Patti work heavily accentuated with pearls and crystals to create a glamorous silhouette that works for occasions that span through the day. The collection also features trending elements like double dupattas and embroidered belts which bring the modern element to essentially traditional Indian festive wear. The colors are celebratory, from the crystals to the sequins to the mirror work, each piece is handwoven, hand studded like true artisanal pieces should be.
Speaking about her latest couture collection, Couturier Seema Gujral said & I am very excited to showcase my couture collection 'Portraits'. Through this collection, I have tried to express my love for Indian royalty through elaborate embroideries and intricate craftsmanship making each piece timeless. I believe that there is a sense of hidden royalty in every woman & this collection will help them unleash the queen within."
Portraits by Seema Gujral is now available at Seema Gujral's Studio as well as Aza, Ogaan,
Pernia's Pop Up Shop and Origins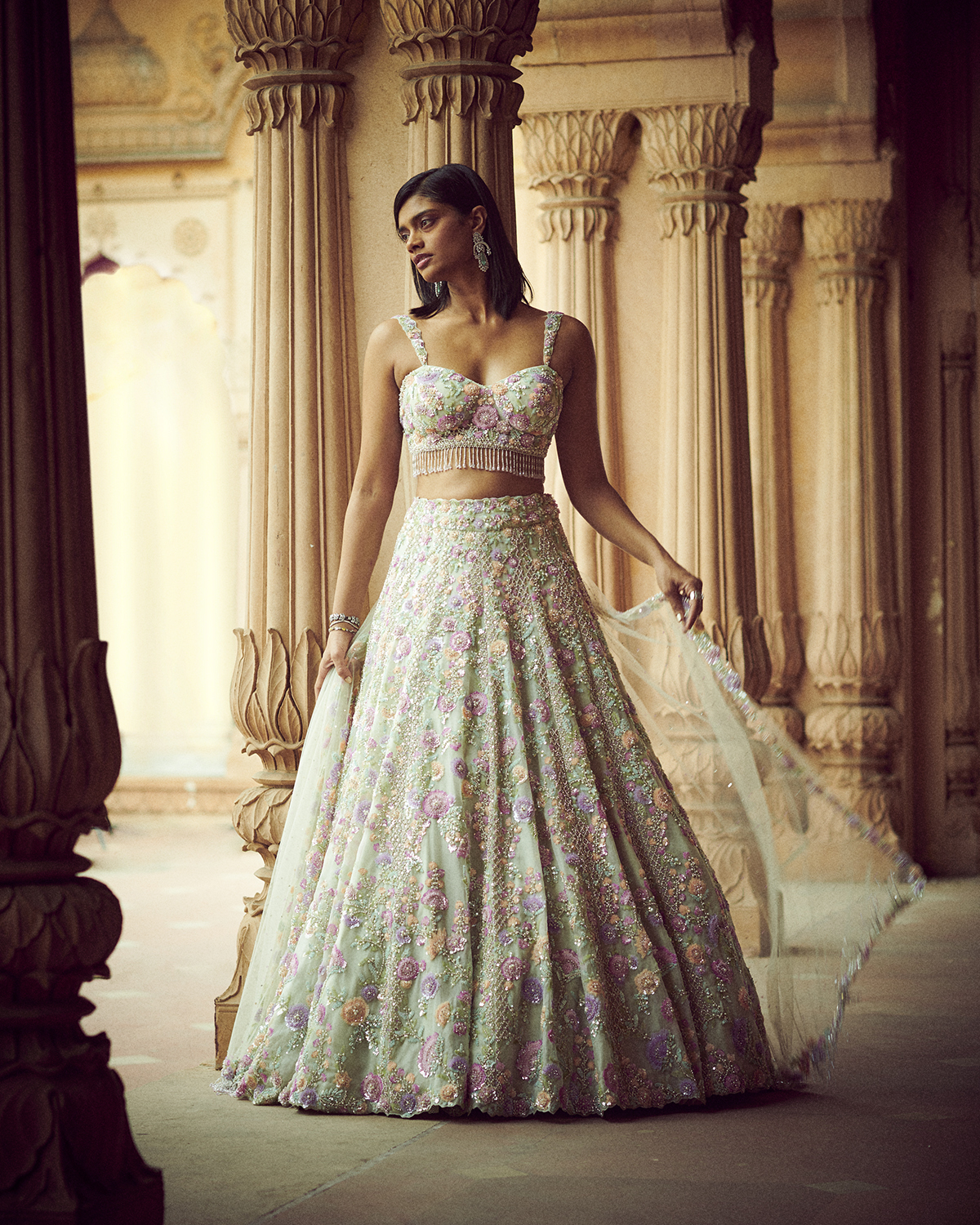 ---
---
---
---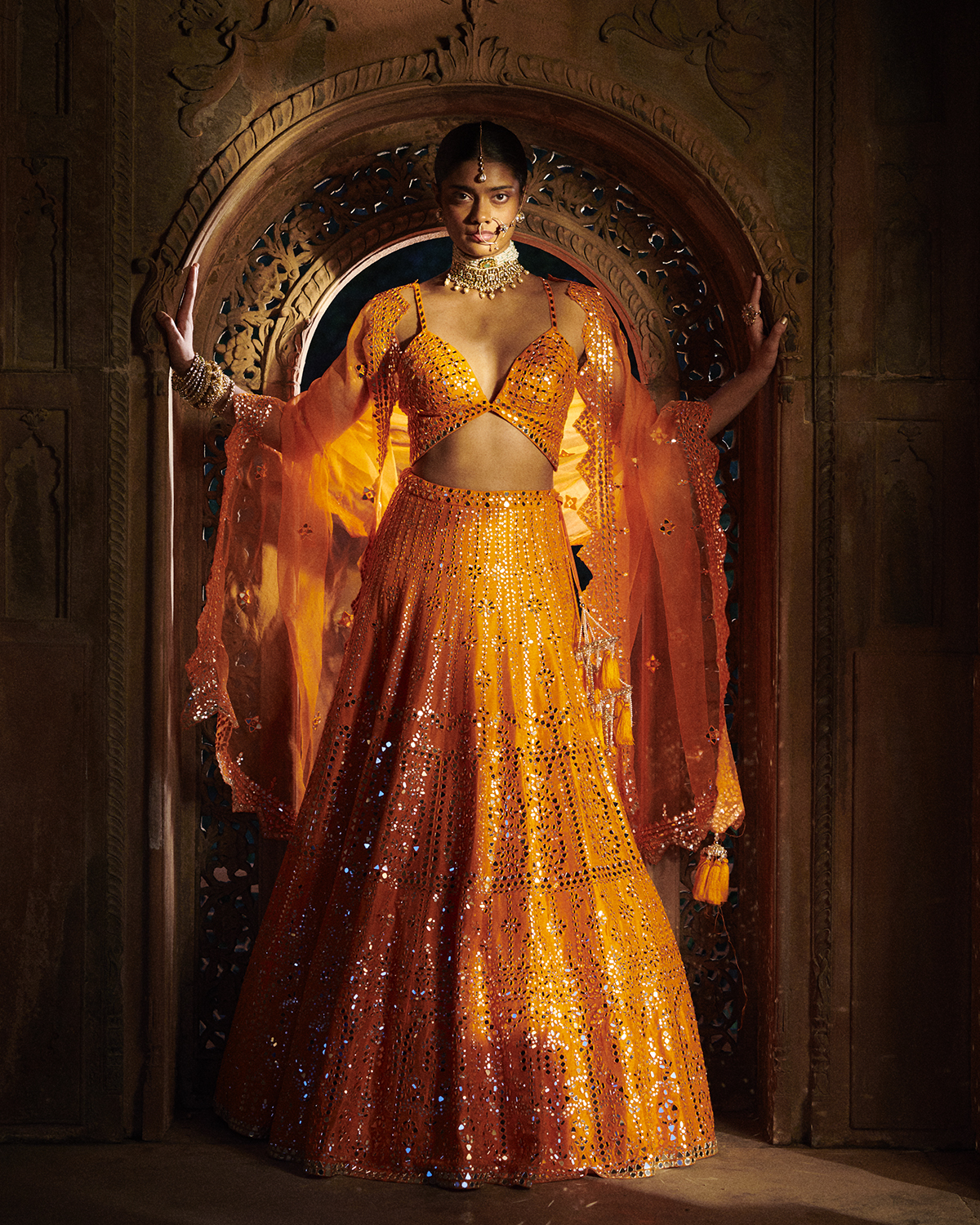 ---
---
---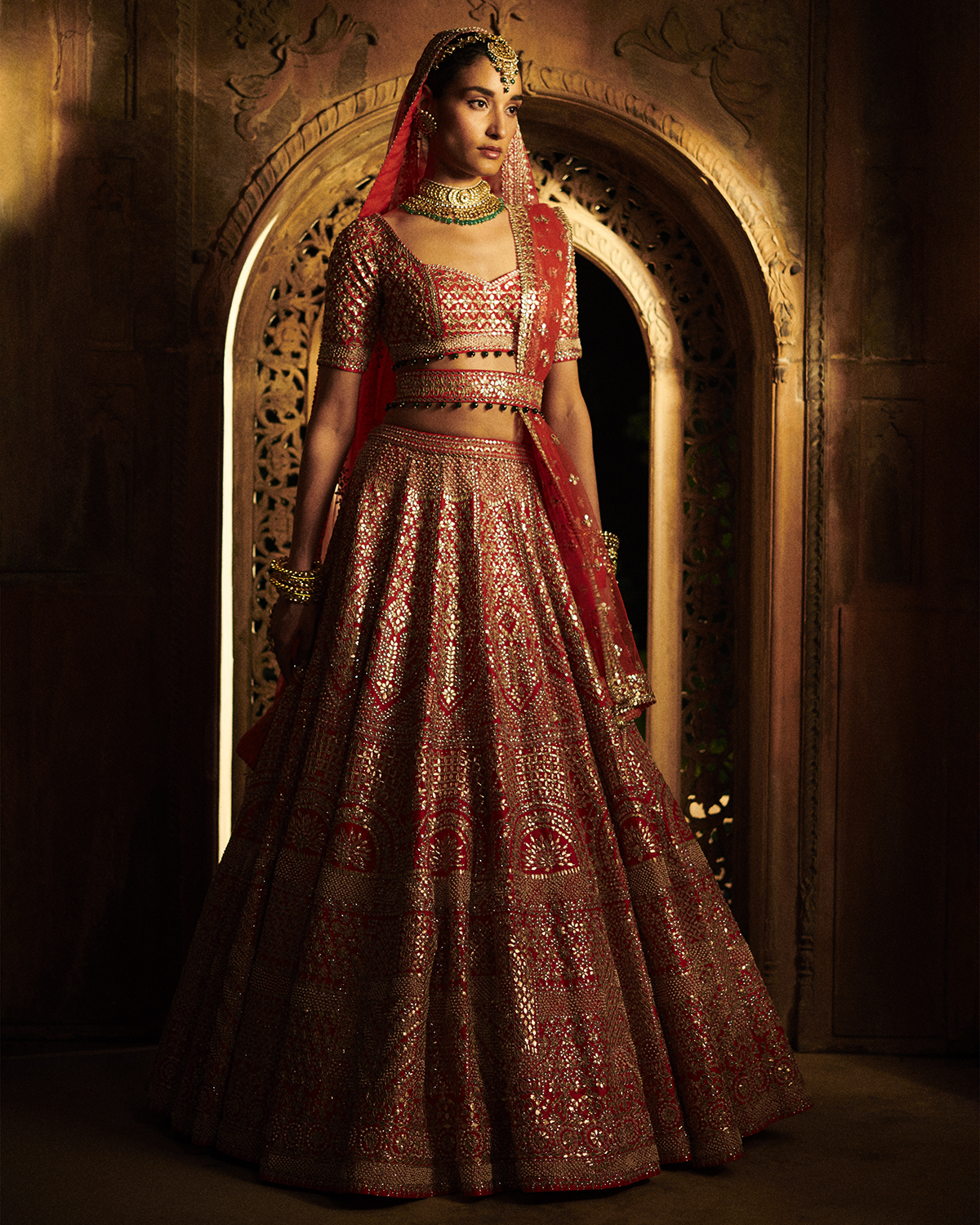 ---
---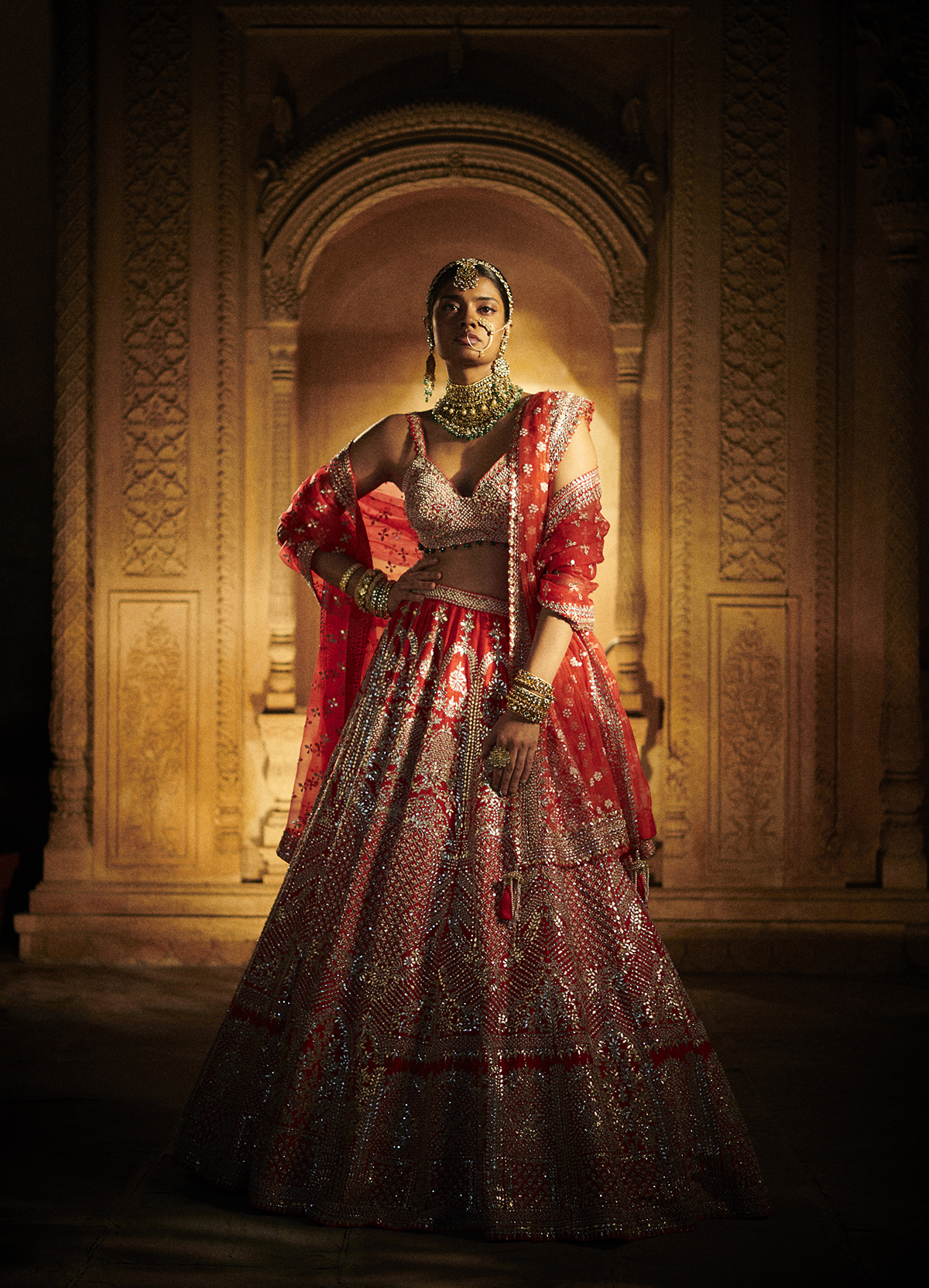 ---
About Seema Gujral
Seema Gujral was a dreamer since childhood and wanted to carve a niche for herself in a profession where she could express her creativity. Her self-taught skill of pattern making and draping and endeavor to achieve the synthesis of popular and avant-garde aesthetics, enabled her to start her love affair with design when she started her production house, Iris in 1995 with a team of only three people. The brand consistently flourished and Seema forayed into embroidered garments, which was met with rave reviews from her existing customers, friends and family. Thus, began Seema's journey to fame, successfully delivering bespoke designs to Indian Market for the past 25 years. She found inspiration in her roots and strived to infuse classic traditional charm in all her designs. Her design aesthetic
combines fashionable with organic detailing and sustainability. Her brand stands true to her commitment to revive, sustain and empower the Indian forms of art and textiles, thereby demonstrating a brand with a conscience.
With a unique quest to revolutionize Indian couture, Seema Gujral's designs are a reflection of India's art and culture. Her visionary ensembles stem from a harmonious amalgamation of modern perspective and heritage craftsmanship. The entire collection weaves an alluring story through the impeccably handcrafted outfits. Made with the finest of fabrics, each garment is tailored to perfection for the bride-to-be. A deep commitment towards the art, extraordinary craftsmanship, and an unmatched measure of love that goes into making her gorgeous designs make Seema Gujral a leading name in her field.
---
Check out more links like this: Shyamal And Bhumika Launch Summer Bridal Couture – Memoirs of A Maharani | Shyamal And Bhumika Showcase For The First Time At India Couture Week!!! | A Parisian Symphony By Shyamal and Bhumika At Amazon India Fashion Week! | 10 Dream Brands and Their Flagship Stores in Delhi