7 Most Trendy Colors To Wear This Summer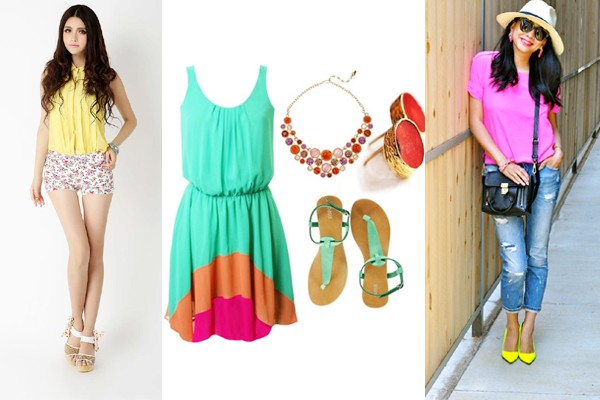 The hottest season of the year, summer is back in action. This season don't let the rising temperature and hot winds steal your fashion sense. Stop worrying about scorching sun and welcome this summer with vivid colors that are this season's hottest trend. Here are some colors that will help you beat the heat and look trendy this summer.
CHEERFUL CORAL
Year 2014-15 has been the year of this eye-catchy color. From coral lipsticks to coral nail paints to coral foot wears and dresses, this color was seen everywhere and adored by all, including many Bollywood fashionistas like Alia Bhatt and Sonam Kapoor.
Clothing– Try this color for sheer tops, cute A-line dress with pockets or a cool jump suit.
Accessories– Wear this color in accessories like stylish neck piece, silicon strap watch, fringed sling bag or laced-up stilettos.
ROMANTIC RED
Red is the color of seduction, sensuousness and glamour which is apt for every season but summers are the best time to flaunt it out in the finest possible ways.
Clothing– For that ultra-feminine look, go for smart high low dress and finish the look with a waist belt or a long evening gown. For casual look go for skinny red trousers along with white see-through top, red trousers can be replaced by cute short skirt for that chic look.
Accessories– This season go bold with red pumps and complete the look with red clutch to add more drama.
LIVELY LEMON
This jubilant hue brings out a tangy taste with its revitalising greenish cast. The shades of lemon are magnificent including the neon. This color can be worn and carried well in summers.
Clothing– For refreshing look go for wrap-around or patterned skirt or cotton shorts. For parties you can wear it as fit & flare dress.
Accessories– Try stylish lemon go-bahamas sandals or pumps for your feet. Pick up cute hair clips and hair bands in this shade to complete the look.
TEMPTING TEAL
This cool shade is trending this summer and being worn in so many different ways. It looks refreshing and stylish providing you the spotlight to showcase your individuality.
Clothing– Wear it as flowy shrug or cap sleeve jacket. A shift dress in teal will look classy. For more summery feel you can go for palazzo pants.
Accessories– A patterned chic clutch, silicone band watch, strap sandals or peep-toes are best choices for this color.
PRETTY PINK
This hot chic color is like blossom in summers. Hues of pink like magenta, baby pink and even florescent pink can do wonders to your overall look.
Clothing– Wrap up flowery or patterned scarf around your neck, go for chiffon flare dress or a cute short skirt. For that traditional look, go for pink or magenta Patiala salwar with short white kurta.
Accessories– Look super-stylish this summer in pink peep toes or pumps, tinted glares and trendy hand bands or bracelets.
WONDERFUL WHITE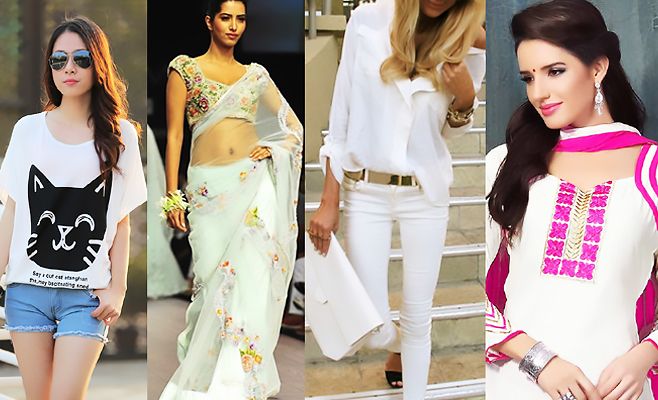 In summers, white is a must color for your wardrobe. This color looks good on almost all skin tones.
Clothing– A white stylish blazer or a white cotton shirt or see-through top with blue denims or denim shorts look remarkable. For ethnic look go for self-embroidered white kurti with colored Patiala salwar or colored kurta with white Patiala. A short white fit & flare dress will look super-cute.
Accessories– Go for white sandals, gladiators or stilettos, sling bag, belts with golden buckles, trendy white neck piece.
BLISSFUL BLUE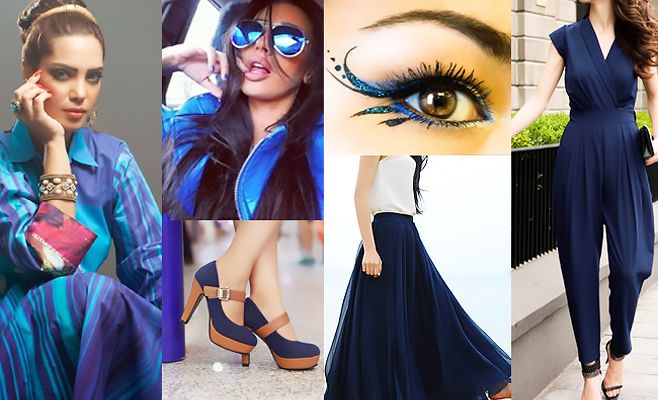 Go ahead, be fearless and express yourself with this eye-catchy color. This soothing color will help you get rid of scorching sun and calm yourself.
Clothing– Try out blue jumpsuit, A-line dress, chiffon top or a short flare skirt to get noticed.
Accessories– Blue aviators, fringed sandals or electric blue pumps, turquoise blue neck piece and bracelet will look super cool. Finish the look with blue eye-liner and nail paint.
Try out these super trendy colors which won't let you lose your cool this season.
Also Read : Cool Outfit Ideas for Newly Married Indian Brides to Flaunt this Summer