5 Tips To Choose Lingerie For Your Body Type

Lingerie Tips for Different Body Types  
How to choose your lingerie is one of the most sought after question in every woman's mind. Different bodies have different fits and its important to choose your lingerie as per your body shape and type as it has the ability to boost a woman's confidence.
I think even if no one can see it, but having a perfect, beautiful piece of lingerie on your body can boost your self esteem in your own eyes.
Here is a look at lingerie ideas for different body types:
1. Curvaceous  or Curvy Figure Type
Bra : Full coverage bra are recommended for curvy girls as they offer a lot of support, however if full cover makes you feel unattractive, you can add several sexy options to it such as lace or satin finish. Another option is a demi cup bra. For all your low cut or deep necks it gives a great fit without showing and is supportive too. Find the thicker band in the back and the straps for proper support and fit.
Bottoms/Panty : While choosing for lingerie bottoms, go for high-waist fits. They cover up the loose skin on your tummy, if you have any.
Night Wear: Halter necks in gowns and negligees will highlight your collar bone. Satin will enhance your curves and a semi-stretch fabric will bring out the best in you!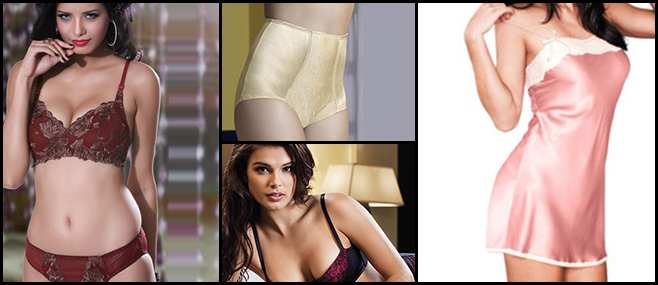 2. Slim Figure Type
Slim or thin girls can go for a light underwire or a pushup bra for the lift that they need. A bra with side padding is helpful in creating wonderful cleavage too.  Remember not to over do as it will make you look artificial.
Night wear – Bold colors and patterns will  give you a fuller impression. Your night wear fabric should be smooth and flirty ( small skirts with ruffles or lace ),  body hugging yet maintaining the elasticity of the fabric, to bring out your curves. Don't wear loose clothes as they might make you look straighter.
3. Athletic Figure type
Bra : Since most of the athletic women have flatter chests, a pushup bra which enhances the cleavage will be a great choice. Strapless bras should be avoided. Halter necks and razor backs can help you highlight your chest area. Go for 'Lace', as it will add softness to you and a little feminine touch as well.
Bottoms/Panty –  Athelitic women have mostly muscular legs and toned bodies and therefore fitted bottoms are recommended and hence  Boy shorts style bottoms will look great on you , as they will accentuate your curves and highlight your already great body shape.
Night wear – Anything with lace, frill or ruffles will give that softness to you.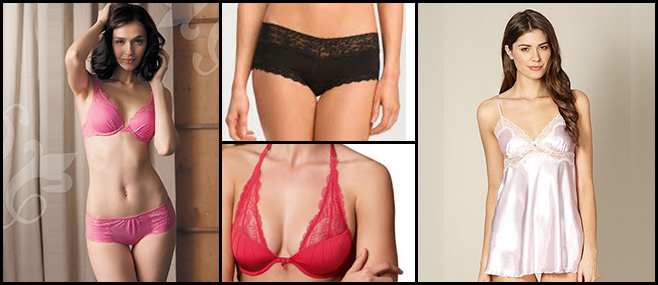 4. Pear Shape Body Type
Your body type is heavy at the bottom , that is bigger thighs and hips area.It is important to create curves in the right places. Lingerie that enhances your breasts and downplays your hips and thighs area is perfect. You can go for frills too, as they will highlight your bosom.
Bottoms – since a pear shaped body usually has heavy thighs and hips area, boy shorts style panty will look good on you as it will give you perfect coverage on the bottom and enhance the breast area.
Night Wear – Go for flared gowns and skirts that hide the thigh area. Also, night wears or dresses that have a high yoke ( stitch break up ) between the bust and hips will suit you best as that will draw attention to your waist giving you a beautiful figure silhouette.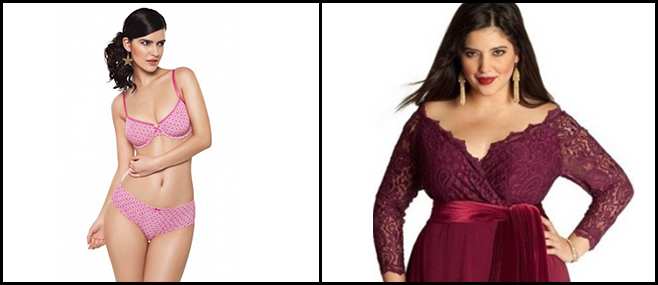 5. Pluz Size Body Type
Plus size women tend to carry a little extra weight so for this, one piece sets / gowns are the best choice. Baby doll designs  suit any plus size woman looking for her ideal plus size lingerie. You need to choose the delicate fabric that focuses your body shape in a subtle way and hides the forms where you are not comfortable.
Rich and dark colors will go well with your body form. Try and avoid loud and bright colors. Full size gowns in a semi-stretch material can also do the trick.
It does not matter if you are fat, healthy, slim or thin; owning a pair of great looking inner wears not only adds comfort but makes you feel better too.