Amazing Printed Decoration For Your Day!
Huge crystalloid chandeliers, fairy tale lights, alluring furnishing accessories and everything fancy around. Be it a pure traditional wedding or a modern wedding, an Indian wedding is always incomplete without a décor which can make your wedding guests go wow as soon as they enter the venue.
Dreaming of a 'Printerest – worthy' wedding but lacking the inspiration to make it a reality? We have got you covered with all the drapes, rugs and flowers in the most trending way.
Printed decoration is the most pocket friendly and exclusive way of transforming even a museum into a stylish wedding venue and is also the talk of the town these days. Be it your Mehendi ceremony, Cocktail or Reception we have the most fashionably elegant and sophisticated options available without even hurting your bank accounts.
A neat amalgamation of colored drapes, beautiful lights and a 3D rug is all you need to create a perfectly crafted celebrity like experience.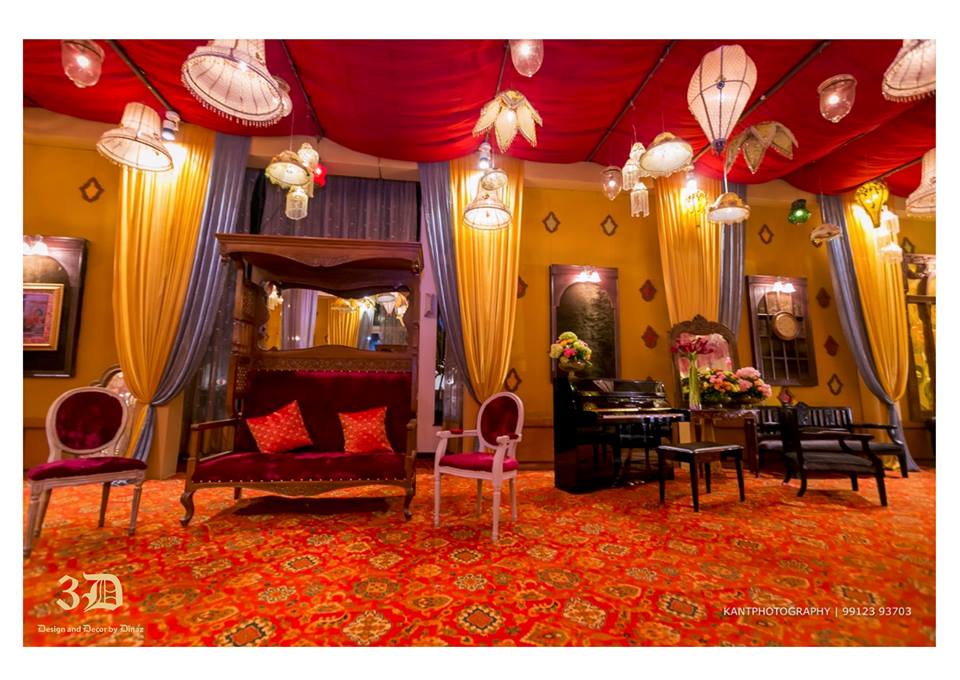 Decoration by 3D- Design & Decor By Dinaz
---
Not too fond of colors? Don't worry we have an option here. Whether your vibe is modern, retro or minimalistic you are surely going to like this Black and White look with a nice lighting effect and huge chandeliers.
Decoration by Aash Studio
---
The most budget friendly and picturesque idea is to have a beautiful big size rug just at the right place to get most out of it. This décor can surely help you with your last minute plans.
Decoration by Abhinav Bhagat Events
---
Whether your guests are already best buddies or they are meeting for the first time, this is a great idea to provide them a pleasing space to take a break from dance floor, relax and have a conversation.
Decoration by Dreamz Kraft
---
Adding a plenty of patterns and colors will be the key in 2019 for wedding decorations. So spice up any of your boring open lawn events with this vibrant drinks truck. It's a super cool idea to add colors to your dull sunny events and make them more eye catchy.
Decoration by Dreamz Kraft
---
The most boring part of an event is to welcome the guests personally at the entrance. But this wedding season you can easily skip that with the coolest décor idea. The lady on this exceptionally huge carpet will serve the purpose in the most innovative way.
Decoration by Shyamalee Thevar
---
To create a cozy aesthetic, mixing various textiles is a great way.  Silky drapes with a decent printed rug and cushions in similar tone accompanying with flowers and fresh breeze gives you an unforgetfully magical fairy tale experience.
Decoration by The A-Cube Project
---
How about placing enormous super traditional rangoli print flooring with a water feature in the center for one of your events?
Decoration by The Wedding Designers
---
Let your loved ones share in food with style. Breaking bread together is always a great idea to create a friendly bond. Let the magic of love spread in an artistic way with a printed table runner and some fresh flowers.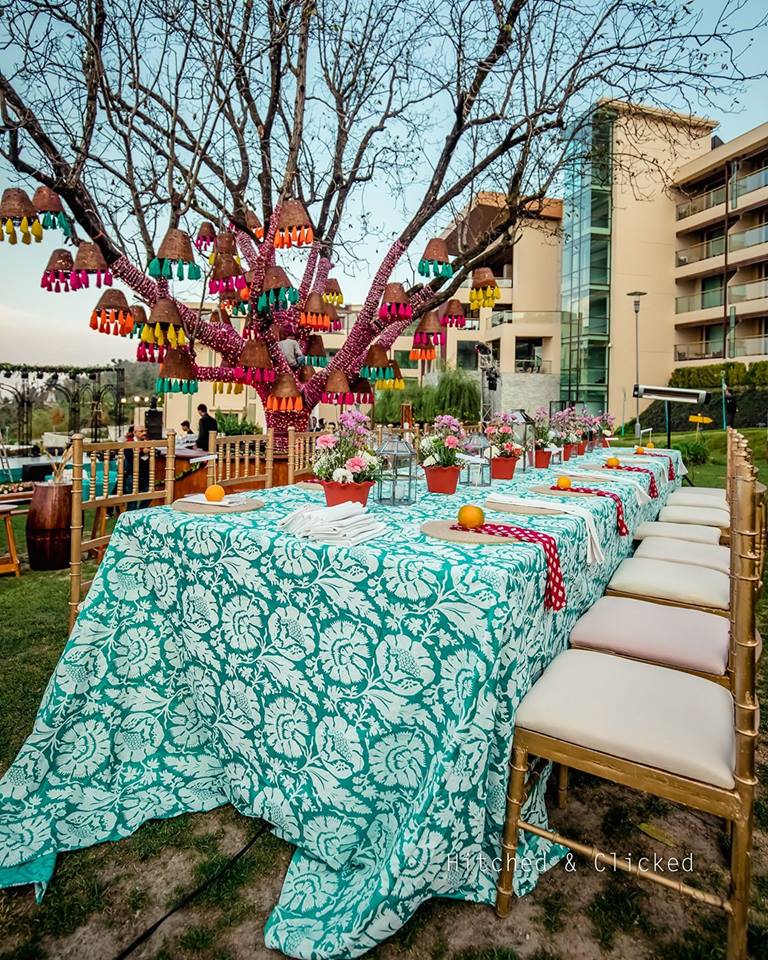 Decoration by Altair
---
Whatever be the decoration, always prefer bright prints over dull plain colors while choosing for table covers.  Stains are easily visible on plain colors while printed table runner helps hiding the stains and make guests feel more fresh and comfortable.  
Decoration by IVY Weddings
---
Checkout more links like this : The Women World, Behind Beautiful Decoration! | Car Decor Ideas | Light Budget Sangeet Decor Ideas! | 10 Awesome Wedding Decorators To Fit In Every Budget