Wedding Accessories For Groom – Indian and Western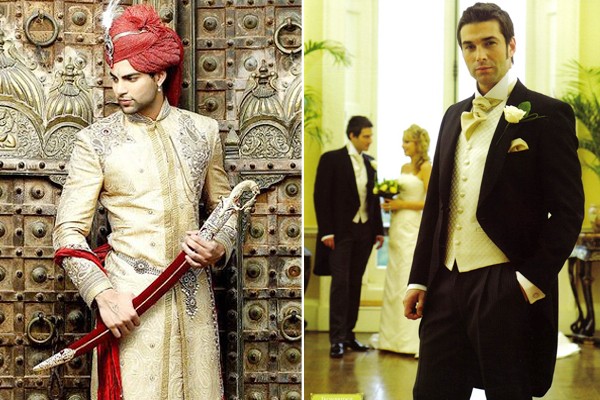 March 26th, 2014
2 Min Read
When it comes to groom accessories, you need not worry about the variety and type, as we have some great tips on the range that exists for wedding accessories for men as per your dressing style. Its an instant hit and makes you look amazing.
Indian wedding accessories for groom : For those of you whose groom dress is  traditional Indian wear like Sherwani, Achkan, Dhoti Kurta or Kurta Pajama, you can try any of the following groom wedding accessories:
1. Brooch: If you are wearing a sherwani or any ethnic wear, get a brooch on it, plain and simple or swarowski studded…let your sherwani decide.
2. Beaded Neck Wear: Wear a long gold chain or long beaded necklace that compliments your traditional look. Not only that, it makes you look elegant.
3. Pagdi or Turban: A beautiful swarowski studded turban with a brooch or bead lining or studded feather also sets you apart giving you a royal touch.The color of your Turban must complement your attire. It should either be a contrasting color or a similar one.
4. Juti: There are different kinds of Jutis like the Mojris, or salim-shahi, so go for the right color that would suit your attire. Also keep in mind that they are custom made for you and wear them a few times to wear them out so that they become used to your feet and Vice versa.
5. Sword or Kirpan: You can also carry a sword on the side if you are wearing traditional dress. It will make you look traditional and well done up.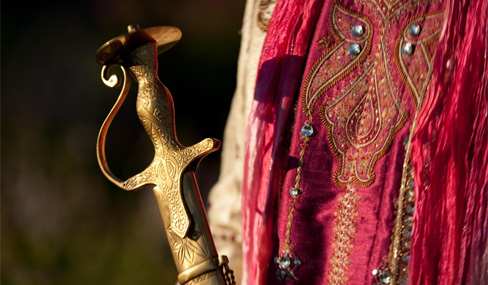 Western and Indo-Western Wear: For those of you whose groom wear style is non-traditional, the perfect kind of wedding accessories gives an awesome ensemble to your 3 piece suit. The things that you need to remember are:
1. Boutonniere: Nothing adds more beauty to a man's appearance like the confidence embodied in wearing a stylish boutonniere. This piece of floral decoration worn by men in the buttonhole of their suit, makes them stand out.
2. Silk Scarf: An elegantly wrapped silk scarf around your neck not only makes you look dashing but also leaves an amazing impression.
3. A Bow: This piece of accessory can either give you a super formal look or a more of a retro look, so if thats your style, get going!
4. Necktie:  Be it a Long Tie, or a Bow, it is important to remember that White Ties are ultra-formal, Black ones are moderately formal, and colored ones are for casuals that vary from one occasion to another. Silk ties suit best for Weddings.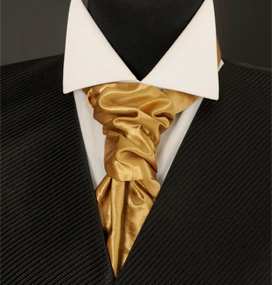 5. Cuff-Links: Stylish, plain, semi-precious stones or crystal, Cuff Links  give you that much needed lift up, and add the oomph factor to your entire ensemble.You can either buy or customize your own special look for your special day !
6. Pocket Square: A nicely folded and slightly visible silk cloth piece in the upper pocket of your Coat, preferably in contrast to your coat, can give you a classy and elegant look.
7. Wrist-watch: No one can deny the importance of a wrist watch. Simple or stylish, it completes your look!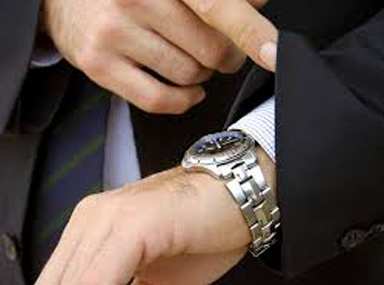 8. Shoes: Gorgeous black glossy formal shoes with your wedding suit, add the spunk in the style on your wedding; so choose them wisely. Do not do blunder the look with sport shoes or hiking shoes that are black.
9. Pocket Handkerchief : Last but not the least, a clean pocket handkerchief in the coat-pocket is all you need for the final touch to finish your look.
---
Checkout more links like these: 10 Ultimate bridesmaid gifts ideas |Let the eyes do the talking! Colourful eye makeup in trend|Mangalsutra designs in trend| 6 wedding jewellery accessories in trend