Splashy Punjabi Weddings – Traditions And Ceremonies !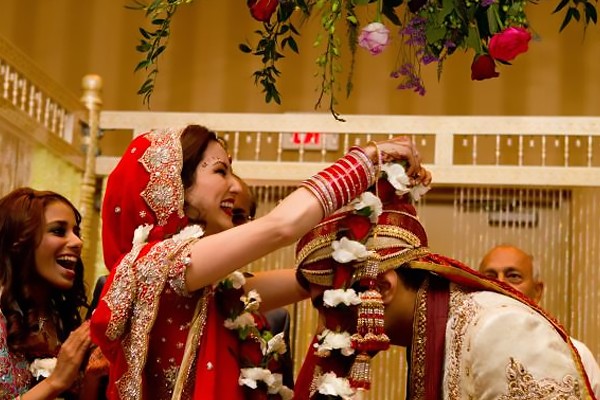 Punjabi weddings are full of interesting traditions, rituals and ceremonies. Punjabi people are fun loving, hard working and believe in opulent weddings and grand celebrations. Full of dance, bhangra, music, joyous celebrations and what not..it is always a bash and if you are one of the family member and you also wants to enjoy it completely, you must hire a wedding planner. Punjabi weddings are a pleasure to attend!
Lets have a look at some of their Pre wedding, wedding as well as post wedding traditions, rituals and ceremonies:
Pre-Wedding Ceremonies :
a)      Roka Ceremony: This ceremony is conducted to fix the relationship between a girl and a boy.  Here, dry-fruits, sweets and gifts are exchanged between both the family members.
b)      Sagan: This is performed either at groom's home or in a party hall. In this ceremony, bride's father applies tilak on his would be son-in-law's forehead and gives him some gifts and sweets.
c)      Chunni Chadana & Ring Ceremony : In this ceremony Groom's family gifts a red sari or a chunni to the would be bride and groom's mother gives her some jewellery. As a shagun, boiled rice with milk is served to the bride by groom's family and then rings are exchanged between the two.
d)      Sangeet Ceremony: Few days before marriage all the relatives of the family gang up and tap there feet hard to express their joy and happiness for the would be wedding couple. As a custom, they also perform Bhangra and Gidda along with the Dhol which automatically raises the energy and enthusiasm of the wedding.
e)      Mehandi ceremony: The bride's sister-in-law or brother-in-law brings Mehandi which is then applied by a professional or any family member on her hands and feet.
Wedding Rituals & Traditions:
At Home :
a)      Chuda Ceremony: Chuda means a set of white and red bangles. This ceremony starts with a sacred puja where the elder members who perform this puja keep a fast till the "Chuda" is not shown to the girl.
Once the puja is over, everyone is supposed to touch the chuda and provide their best wishes to the girl. The girl is asked to sit in front of the four oil lamps in which oil is constantly added to keep them lit. It is a belief that this adds glow to the bride's face on the wedding day.
b)      Haldi Ceremony: A paste of turmeric powder & mustard oil (Haldi) is applied to the would be bride's and the groom's body and given a bath with holy water. Then they wear their wedding attire that is given by their maternal uncle.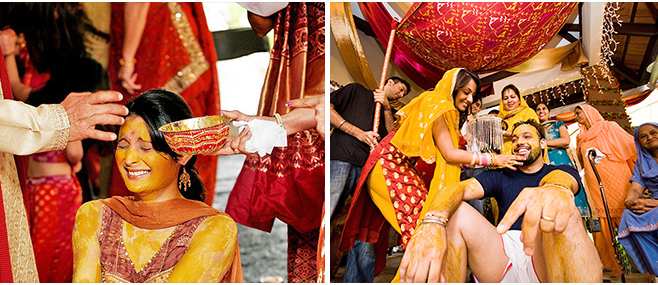 c)      Sehrabandi : The trademark of an Indian Groom, Sehra forms the most beautiful accessory of the groom! Any elderly relative or boy's father ties the sehra on his head (a pink colour turban, with hangings covering his face).
Then the boy leaves for the venue followed by a barat procession with a band of musicians.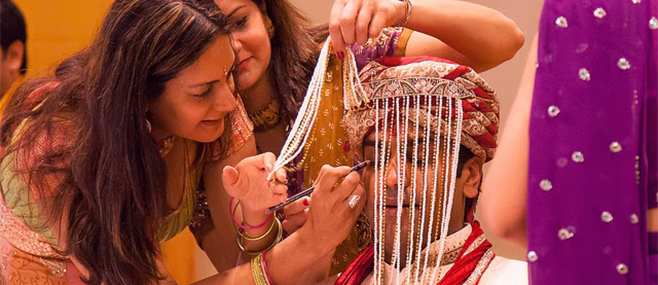 Here comes the long awaited day, it is joyful as well as sad moment for the bride as she is bound to leave her own family and be a member of the new one. Let's have a glance on what's going in a Punjabi Family during a wedding:
 At Marriage Venue :
a)      Milni :  In the Milni ceremony, the bride's and the groom's family formally introduces each other's relatives and the bride's relatives give Shagun to the groom's relatives. It is done in the descending order, beginning from the elder most.
b)      Jaimala : Then, the bride and groom stands on stage and exchanges a heavily made garland made of beautiful red and white flowers.
c)      Saatphere and Kanyadaan : At the time of wedding known as "Veddi" in Punjabi, mantras are recited by the groom as asked by pundit and then the bride is led to the Vedi.
Then, the bride's father does  Kanyadaan where he keeps his daughter's hand on the groom's hand and pours holy water symbolizing an official way to finally handover his daughter's hand to the groom.
The saat phere, the most important feature of a Hindu Punjabi wedding involves taking seven rounds along pious fire, along with seven beautiful vows, which culminates their wedding.
Post-Wedding Ceremonies :
a)      Vidai ceremony: Now, it's the time for bride to leave her parental home and step in to her own home (husband's home) with a mixed feeling of sadness and joy. While walking on the way, bride throws a handful of rice towards her parental home, symbolizing giving back whatever she has taken from er fathers home.
After reaching new home, aarti is performed by an elder lady of the family and the bride is welcomed in the family with God's blessings.
b)      First day at new home: As per the custom, the new daughter-in-law is asked to prepare some sweet dish such as halwa. Her mother as well as father in law and other relatives give her gifts. Then, the newlywed couple visit bride's parental house where they are given clothes and gifts including jewellery.
c)      Reception Party:  Like other religions, Punjabis have a grand opulent reception party to welcome the newlywed couple. This party is arranged in a very luxurious way with full of various food items as well as dance party.
Weddings are beautiful ! And so are Punjabi weddings !!!
Read Also : Bengali Wedding Rituals And Customs